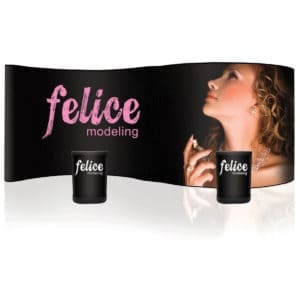 Our 20 ft. Serpentine Big Wave Pop Up Display gives exhibitors immediate recognition on the trade show floor. The large size and coverage of  20′ Serpentine provides a great platform for you to showcase your booth materials and branding, allowing oncoming traffic to notice you immediately.  These Big Wave Pop Up Display are impactful and proves a nice 20′ S-shaped curve that attracts attention.
This model consists of two pieces of 10′ displays that seamlessly work together to create a fantastically designed "wave", and can be separated if required to be used individually.It comes with 4 Halogen or LED lights to illuminate the display, and 11 fully printed custom graphic panels. It is an ideal solution for displaying in 10×20 spaces.  It comes in two hardshell cases that both convert into a podium.
20 ft. Serpentine Big Wave Pop Up Display
20 ft. Serpentine Pop Up Display provides excellent quality, durability and performance – a best value pop-up display system
Inter -locking frame features and channel bars for simple setup
Unique square tubing makes the frame stronger, more stable and more reliable
Channel bars locks into place for easy installation
Self-aligning magnets on panels create a seamless look
Field-repairable frame comes with a no-questions-asked lifetime guarantee
20 ft. Serpentine looks great with either graphic mural panels or velcro-receptive panels
Complete 20′ kit with lights and podium kit packs into 2 wheeled shipping cases
The Big Wave Pop Up Display comes with everything you need to effectively promote your product at any tradeshow for a fraction of the price of other displays.
The Serpentine Graphic Package Includes:
2 Extruded Aluminum Frames
2 Podium cases with lid
42 Channel Bars: 34 Silver & 8 Black (*Actual Need: 30 Silver & 6 Black)
4 Halogen Lights (150 Watt) or optional LED lights
3 Graphic End Panels
8 Graphic Center Panels
2 Repair kits
2 Podium wraps
Graphics:
Printed on Laminated Display Film
Optional Podium Graphics:
Printed on Laminated Display Film
Warranty:
Frame – Lifetime warranty
Graphic – 1 year warranty