Below are some of the testimonials
UBC LRD 2022 at UBC Life Sciences Institute, Vancouver
Hi Sangeet:
Here are a couple of shots of our LRD 2022 conference venue. The poster boards we got from you were perfect. We really appreciated that they arrived on times and were taken away on time. Really appreciate having had the chance to work with Comotion.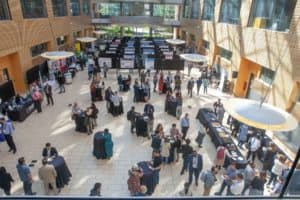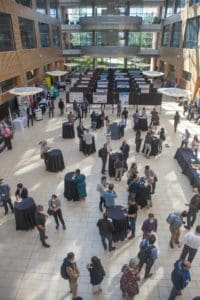 Cheers,
Terry
Theresa M. Allen, Professor Emerita
Conference Co-organizer
Poster boards Rentals Hyatt Regency Calgary for CADDRA (Canadian ADHD Resource Alliance)
Good morning Sangeet. The guys were prompt and very nice. Thanks so much. I'll be in contact next year for our conference in Toronto.
Cheers.
CADDRA
Poster board rentals in Vancouver & Calgary for RBC
Venue: Metropolitan Conference Centre, Calgary
Venue: Vancouver Convention Centre, Vancouver
Sangeet,
Thanks for reaching out. The events went well. We will be doing some next year and I will definitely reach out to you.
Royal Bank of Canada
Poster board rentals for Markham Stouffville Hospital, Ontario
Hi Sangeet:
Again, thank you for coming to our rescue this week.
Thanks,
Markham Stouffville Hospital
Poster boards rental at Esterel Resort, Quebec
Good morning Sangeet,
The event went well thank you, the poster boards were great. My only comment is that I would have liked the board set up completed by 4pm, and not arrive by 4pm. It was a bit close for comfort, but I take responsibility for not requesting an earlier set up time.
We will use your services again next year, the event is scheduled for the same weekend in May, 2019 at Esterel Resort, Québec
Thanks for following up,
Pinnacle Marketing & Education Inc.
Poster boards rental at Collingwood School, Vancouver
Hi Sangeet,
Yes, the poster boards worked out very well. I'm so glad we found your company, and will keep you in mind for future events. We may have a spring show as well, but will contact you if needed.
I appreciate all your assistance with our rentals.
Kind regards,
Collingwood School
Taiwan Pavilion @ Globe 2016, Vancouver Convention Centre
Dear Sangeet,
It is a great news. We are so happy to make the right decision to choose you and your team. We will introduce more potential customers for you in the future.
Diamond Resorts Custom kiosk at Whistler Gondola
Thanks for all your great work on our kiosk. I'm extremely happy with how everything worked out, from start to finish. I look forward to working with you again on our next project!
Trade show Displays for RYU
Thank you so much for the media board, it is so amazing. Thanks!!!!
Trojan One
Red Hat custom booth @ Open Stack Vancouver Convention Center
The client said the booth looked great at their last event and they loved just how portable and easy it was to set-up.
George P. Johnson Experience Marketing
Trade show displays for clients of Patch Design
Thanks again Sangeet! Glad we had the opportunity to partner on this local event. I'll surely keep you in mind for other projects.
Patch Design
Trade show Displays for TELDON
Hi Sangeet – YES The pics looked amazing! I understand from the client they were very happy with everything. Thanks again for all your tremendous help and quality service. Cheers
Trade Show Displays for TELDON Vancouver
Thanks Sangeet! If I have any referrals I will certainly forward them your way! We are very happy with our new display unit! All the best,
Teldon
Vancouver International Boat Show 2014
Sangeet and his team produced a fantastic show booth and within an impossible time frame deadline. They worked to our guidelines and surpassed all expectations for quality, cost and service. I would not hesitate to recommend their service to anyone looking for a professional finish to their marketing product but with a friendly and understanding attitude. Dolphin Insurance
Dolphin Energy
Trade Show Displays for TELDON Vancouver
Thank you again for coming by the office and showing us the demo. It's created quite a stir around the office. We're excited to have it at one of our shows.
TELDON
Outdoor Event for Montreal & Vancouver – Greenpeace Canada 2014
Brilliant, thank you for working so hard to get those to us in a very tight deadline. My colleagues are thrilled with them. Regards, Greenpeace Canada
Greenpeace Canada