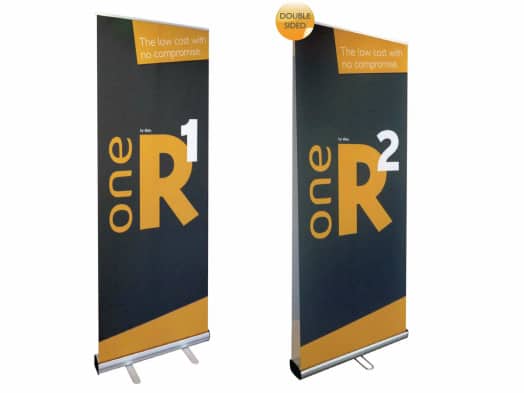 The bannerstands are retractable and offer the ideal solution, price, and quality for budget-conscious customers. This kit includes a light and compact aluminum casing, two retractable feet for perfect stability, and an opening on the back for the bungee-corded pole.
The one is delivered in a padded polyester carry case with a full zipper. All of these features combined permit a fast and easy set-up in just a few seconds!
One R1 and One R2 Banner Stand Features:
Low Cost
Single and Double Sided
Bungee-corded pole stored inside base  of stand
Guaranteed reliability in any environment.
Rolled up inside it's casing, the graphic is well-protected during transportation.
Heights Available
---